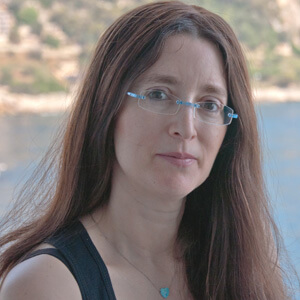 נירית ליטני, בת 44, מאמנת אישית, מאמנת רפואית ותזונאית קלינית טבעית.
בעקבות מחלה שריתקה אותי למיטה למשך למעלה מעשור, פרשתי ממעגל החיים ואיבדתי צלם אנוש. בחירתי בחיים, החלמתי ולידתי מחדש בגיל 40, מלווים בהחלטה לה אני מסורה בכל ליבי. להקדיש את חיי על מנת להשפיע ולגעת בחייהם של אנשים החפצים בשינוי (באשר הוא). אני עושה כמיטב יכלתי על מנת לנתב את הידע, הניסיון והתובנות שרכשתי במסע הריפוי שלי את עצמי, על מנת לעזור לכל מי שרוצה לעזור לעצמו. ובכך אני הופכת את הסבל שעברתי וחוויתי לנכס.
כתיבת ספרי ילדים (וספרים בכלל) זו אחת הדרכים עבורי לגעת בחיי אנשים. אני שוזרת בספרים הרבה הומור ומניסיון חיי העשיר, בתקווה להפוך את עולמנו למקום טוב יותר לחיות בו.
תודה סיגלית על התמיכה, העידוד, ההדרכה ועל היותך !
הספרים שלי
Dave the Brave Sawfish
Watch out! If you swim by too closely, Dave, the young sawfish, may just whack you with his nose! No one can deny he has a huge honker, but the thing that stands out about him most isn't his appearance at all. Swim with Dave through an underwater journey as he encounters a scary situation and proves once and for all that looks aren't everything. This bedtime story for kids is the perfect way to send children off to sleep with a valuable lesson to dream about. Vivid illustrations of sea creatures and aquatic animals will captivate little readers and parents alike. Dave is sure to become one of your child's favorite characters from a children's book on Kindle.
Bad Boy Bradley
All kids have known someone like Bradley. He's a mischievous 5-year-old who marches to beat of his own drum and likes to pull pranks. His classmates know him as the boy who always interferes or says something rude, but Bradley may just surprise everyone by the time his story is through.
This charming bedtime story for kids is packed with real-life situations. Through each of Bradley's actions, and a surprising twist, kids will learn a valuable lesson. Colorful illustrations make the tale of a bad boy Bradley  even better for early readers in search of a children's book that they can read themselves.
Fairy's fairy tale kingdom
Everyone knows the beloved children's fairy tales, and Fairy is no exception. This imaginative little girl loves the fantasy world so much that she never tires of the stories. Follow Fairy as she transports into a magical kingdom that allows her to visit her favorite tales a little more closely than she would sometimes like. This colorful bedtime story for kids will inspire curious minds to picture themselves in the shoes of some of the world's most loved heroines. Each page is filled with lively illustrations and interesting twists. Excellent storybook for early & beginning readers, reading aloud at home, and as a bedtime story for kids. Fantasy lovers will enjoy Fairy's adventures, and the little souvenir that may or may not have followed her back to reality!
Bart! Stop the Farts!
Phew Wee! What's that smell? It might just be Bart; the silly little boy who thinks tooting around other people is a funny joke. No matter where he goes or whom he's with, Bart farts way too often to handle. With no end to his stinky antics in sight, his parents try to carry on with their lives. Little do they know, a special outing is just what Bart needs to learn a very important lesson about respect and good behavior.
This light-hearted children's bedtime story is a great picture book for kids ages 3-6. Beginning readers will love the silly story and colorful pictures, while parents will appreciate the hidden lesson inside.
Zoe's Trip to the Zoo
Lots of kids love animals, but not as much as Zoe! After reading plenty of animal books for kids, Zoe's parents finally take her to see all the creatures she loves so much. As they walk through the vividly illustrated zoo, her parents teach her interesting facts about all the different animals she sees. Follow Zoe through her trip to learn about your own jungle-dwelling favorites in this picture book for kids.
This fun and educational zoo book for children is the perfect bedtime story for kids ages 3-6 or beginning readers. Zoe's story is meant to make your own wild monkeys smile before they fall asleep at night. Bright pictures and facts about animals are sure to please beginning readers with an adventurous side, so don't be surprised if they ask to bring an animal home after your next trip to the zoo! Book 1 in the Zoe's trip to the Zoo series.
Zigi the Alien and the Stinky Socks
Sniff Sniff. What is that stinky smell? No dirty sock is too smelly for Zigi, a friendly alien who zooms down to Earth in search of lone socks. Follow Zigi as he roams the streets and parks of your neighborhood, snatching colorful socks when their owners aren't looking. His journey to build up a pungent collection will keep you smiling and leave you wondering where this alien story will head next.Keep an eye on your own socks as you settle into bed to read this colorful fantasy book for kids. This picture book for kids is perfect for early readers in search of an original bedtime story for kids. Book 1 in the Zigi the Alien series.
Fatty Betty
Betty knows a person's character is what matters most, but her classmates can't seem to look beyond her chubby appearance. They call her names and exclude her from activities, all because she likes to eat a lot of sweets! None of the other kids give Betty a chance, but one day she surprises everyone with a heroic act that makes her kind heart stand out more than her size.
Follow Betty's story to learn how she proves once and for all that no one should be judged by his or her appearance. This heart-warming bedtime story for children is a picture book that teaches the values of kindness and good deeds. Colorful illustrations and a positive message make this story ideal for children ages 3-6 or beginning readers. Happy Children's book collection, book 1.
Candy's Chocolate Kingdom
Meet Candy, the cute girl who loves chocolate so much she dreams about it at night. Grab some sweets and follow Candy though a Magical Chocolate Kingdom that fills her belly and teaches her an important lesson about limits, after something very unexpected happens in the delicious empire. Though the vivid illustrations are sure to make your mouth water, Candy's new understanding is the real treat even you can munch on! Excellent for beginner's readers and children ages 3-6. Book 1 in the Kingdom Fantasy series.